Do not Kill me…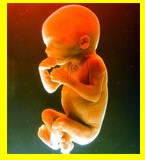 By Finny Chalumkal
I am thankful to my parents, especially my mother who allowed me to alive. It is not the common gratitude a person feels towards his parents. My mother risked her life some 34 years ago to bring me to this world.
Before continuing, why I am writing all this, Ya... most of you were thinking like that. Last few weeks Niketa and Haresh Mehta's plight to terminate their 26 months unborn child-having congenital heart problem- was a big story in media. If you want to see it go for a google search. I really sympathize with that couple. I can understand the pain they are going through. They fought well to get the permission from Bombay high court to abort their child, as the law is against to abort a foetus if it is beyond 20 weeks. The bench of justices RMS Khandeparkar and Amjad Sayed ruled out the petition. "Once there is life, how can you kill it?" Justice Khandeparkar asked. On an humane note, Justice Khandeparkar remarked: "Sorry, we can not help You." This decision of Bombay High court again uphold the dignity of Indian Judiciary.
Let me come back to my own story. When I was three months in my mother's womb the doctors feared if they continue that pregnancy it will harmful even to mother's life. But my father and mother who were missionaries in Assam (a north east state of India) decided to keep me alive. They had that boldness because they know the doctor who can bring dead people back to life. My father and one of his believer friends fasted for three days and finally my father made a 'contract' with the heavenly one. "Lord if you give me a male child I will give him to your services and I will name him Finny as the old revivalist Charles Finny was my father's favorite. My mother was in bed rest for the remaining six months. Finally I was born in this world with out any problem as the doctors feared.
Years passed when I become a teenager, because of my age's enthusiasm I drifted little away from Jesus. My parents, they prayed for me and through some divine encounter I was brought back to the grace of God. The amazing thing happened when I was 21 years. A servant of God who visited our village had a word of knowledge he told it directly to my face, "You were a dead child in your mother's womb, but I gave you life to do my ministry." With all my heart I am doing it now. Ok.... that is why I told my parents allowed me to live.
Each unborn child is having the right to live. As children are the gift of God, we have not right to deny God' gift. An African prostitute tried to abort her child few times but he was born premature, some how grown up in the streets of Ghana, now become renowned servant of God Bernard Blessing. Who know, your child yet to be born, become whom. Do not kill them, let them come out, make them faithful weapons in the heavenly one's hands.
Let me conclude this with some thing Jentezen Franklin told :
"A lady, her health was not in good condition but gave birth her child, he was Beathovan
another one had already seven children but allowed the 8th one, he was Abraham Lincoln
the third one was a girl who got conceived before marriage but allowed the birth of her child, the same person who is our savior and Lord Jesus Christ."