You O Lord, Keep My Lamp Burning
By Pastor Finny Chalumkal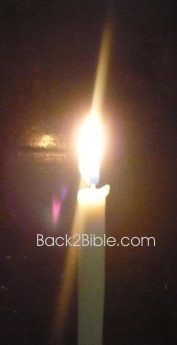 It was the darkest night and the wind kept blowing.
I was trying to keep my candle alive
To reach my home, before the rain.
The clouds were I think, heartless,
They do not allowed even a narrow
Beam of moonlit to escape them.
One or two drops of first monsoon came down
It announced me that their brothers are in queue to jump down.
I told my foots, quick- quick- run- run
Otherwise you will miss the way.
My palms were trying to run around the flame
To stop the wind but in vain.
It came once from left and then from right
Now it is whirling to take my flame away.
The wind is stronger and I can feel it's wrath.
Oh! The final blow came, it took the yellow away.
Look it is now just a red spot in darkness.
One drop hit him on his head...the end.
Here is only darkness around me.
How to reach home........,
Where to go........,
where to turnaround..........
O lord keep my lamp burning

When I took my pen to write down today's thought my childhood in my village came to my mind. The poem above is a vague memory of one of the many nights I waded through darkness with a little burning out candle. People loves light, I do not think anybody say I love darkness, If someone is having an inclination to darkness, he may not be normal. When you feel that there is more darkness the lamp will be much brighter. That is the reason even that small insect with gloving back got a lot of praise from the poets.
Light gives us hope. The Title is an extract from David's psalm 18 : 28. The psalmist is singing You O Lord, keep my lamp burning. psalm 18 is written after David had overcome all his oppositions and God delivered him from all his enemies. The previous years he was undergoing such a situation that his enemies surrounded him. He felt the cord of death is entangling him, The darkness is overruling him. In his distress, he cried out for God's help, and You know dear friends the ears of his strength, rock and salvation his Lord and refuge was not deaf. Then David is continuing his song how Lord responded, the earth was trembled and quaked, even the mountains shook. In short, his enemies scattered and Lord's mighty hand reached him, drew him out of deep waters.
The wind against David was so strong that he thought it will snuff out his lamp. The clouds were so dark even he thought there is no hope, but he looked up to the right place from where only he could get deliverance. That is why the psalmist saying, "You O Lord, keep my lamp burning". Yes, he is the one who help us to keep going. While you read this you may be thinking O, I do not know what will be my future, How I can face that problem, This sickness will not leave me, I will be always shattering by the winds of the world and will end once with out yielding any success. But there is somebody to help you who kept his light over Job's head to show him the way out, which led him through darkness, (Job 29:3) He will keep your lamp burning. Jesus the light of the world is still alive for you, who is the same, the unchangeable one, for yesterday today and forever.